ABOUT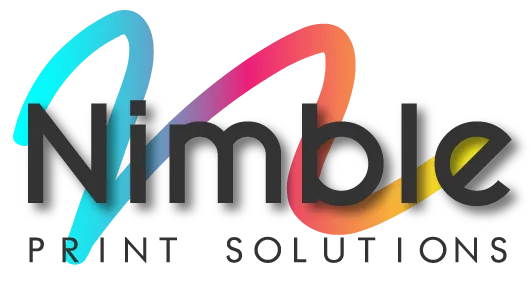 Nimble Print Solutions is a young company with a combined experience in the industry of 34 years to back it up. We started as a digital printing company but have evolved into a total sourcing solution, thus streamlining your ordering for business essentials so you can take care of business.
VISION
Our Vision is to establish an organisation that fine tunes the services we offer in such a way that it is considered revolutionary. Nimble Print is determined to be the leader as a custom branding, print, promotional and signage supplier all over South Africa.
MISSION
Our mission is simple – to offer our clients top quality products at affordable prices.
OUR VALUES
– Excellent customer service
– Punctuality
– Quality products
– Speedy delivery
OUR SERVICES
Are only limited by your imagination.
Indoor & Outdoor displays / signage – gazebos, pull up banners, tablecloths and car branding.
Branded products – events, marketing campaigns, staff rewards / gifts, promotions, customer appreciation gifts, water bottles.
Corporate apparel – staff uniforms, promo t-shirts, kids' shirts, school uniforms and house shirts.
Calendars and diaries – A wide variety of calendars in different sizes to advertise your company 365 days a year as well as personalized school diaries.
Litho & Digital Printing – training materials, copies (Black & Colour), school diaries, magazines, letterheads, business cards, brochures, personalized boxes, Tyvek bands, scratch cards and NCR books.
Office supplies – janitorial products, stationery, name badges, staff wellness packs, office equipment, toners and cartridges.
SOCIAL RESPONSIBILITY
When you order with us, you are contributing to the upliftment of communities.
Nimble Print supports the PWR Projects Feeding Outreach that started during lockdown.With a team of no more than two at any given time had distributed over 30 000 meals to underprivileged members, primarily funded by the public, with absolutely no media coverage whatsoever.They can feed up to 600 people per feeding, at a cost of less than R5 a meal.
We would also like to assist this organisation build a Youth Safe-Centre which will create a safe space where youth from all backgrounds and means can come to, for an accepting, understanding and resourceful environment.
See their amazing efforts on Facebook@pwrproject
https://www.pwrproject.org/aboutfeedingoutreach